The time zone is controlled by you as an Indico Setting (top right). 
The session times will therefore be shifted if you are not set to CAT = GMT+2.
Zoom Conference : 22 – 26 March 2021

Co-conveners:
Topics:

Biophotonics,

Biophysics

and maternal health,

Cellular biophysics,

Computational biology,

Mathematical biology,

Molecular biophysics,

Quantum biology,

Small/Wide-angle X-ray scattering in biophysics,

Structural biology,

Development of the future of biophysics in Africa.

Plenary Speakers

Benjamin Boyd (Monash University)
Gihan Kamel (SESAME)
Malik Maaza (iThemba Labs & UNISA)
Zoë Fisher (Lund University & ESS)
JohnRubinstein (University of Toronto)
The conference will consist of daily blocks of
Presentations : 10h-12h and 15h – 18h (GMT+2)

Discussions : 12h30 -13h30 (GMT+2)
Note: To submit an abstract for either a poster or oral presentation, you will first have to complete the registration process on this website. If you have participated in an South African Institute of Physics (SAIP) event before, you may already have a registration profile in this system. In either case, start with the login icon in the top right of this page. Once you are registered and logged in you will be able to submit your abstract using the left hand menu options.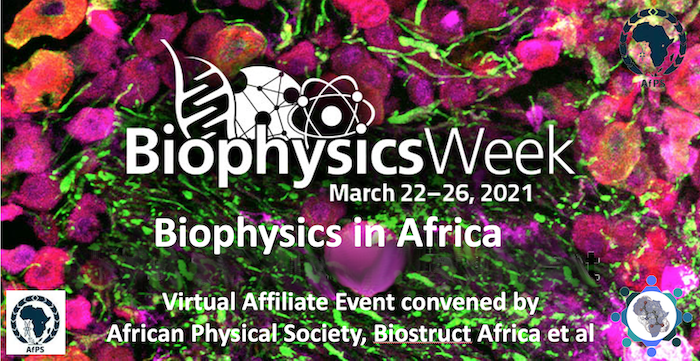 Registration
Registration for this event is currently open.