6-10 May 2019
Kariega Game Reserve
Africa/Johannesburg timezone
Abstract submission and Registration now open.
Conference Venue


The 8th South African Conference on Photonic Materials (SACPM2019) will be held at Kariega Game Reserve in the Eastern Cape Province. This follows the tradition of holding this conference series in isolated and beautiful private game reserve settings, such as previously at the Kariega Game Reserve in the Eastern Cape (2004, 2007, 2011, 2013), Mabula Game Lodge in Limpopo Province (2009, 2015) and Amanzi Game Reserve (2017).

Kariega Game Reserve is a family-owned and operated private game reserve which spans a huge expanse of pristine wilderness in the Eastern Cape, South Africa. The reserve combines spectacular and dramatic vistas with an abundance of African game and wildlife in its natural habitat, to provide for guests a true African safari experience of a lifetime – one they will never forget!

Kariega Private Game Reserve is bordered in the east and west by the picturesque Kariega and Bushman's Rivers. Take in the unique eco-systems of the rivers on a tranquil boat cruise. The daily safari drives on open landcruisers offer a unique combination of exciting lion, elephant and Big 5 game viewing and expansive variety of fauna, flora and birdlife in a landscape that incorporates two majestic river valleys and five different eco-systems. The experience is very powerful and authentically African.

All of the log chalets are air conditioned, with en-suite bedrooms, bar fridges and large private viewing decks. Each has a spacious lounge and living area which is great for socializing before retreating to the privacy and comfort of your bedroom. The lodge has been expertly integrated with the surrounding bush to create a natural environment where the guests can enjoy traditional meals in the restaurant or boma, a drink at the bar or a quiet a swim in the pool. The area is completely malaria-free. The scientific programme will allow ample time for exploring the Game Reserve. Social activities will include game drives. The weather in May may be cool and it is advisable to bring a warm jacket or jersey for the game drives.

Kariega Private Game Reserve is situated 141 km (approximately 80 minutes drive) from Port Elizabeth (Nelson Mandela Bay) and 10 minutes from the beaches of Kenton-on-Sea. Transport will be arranged for those requiring transport to and from the Port Elizabeth airport.

Directions to Kariega Game Reserve: GPS coordinates: 33° 35' 22"S, 26° 37' 26"E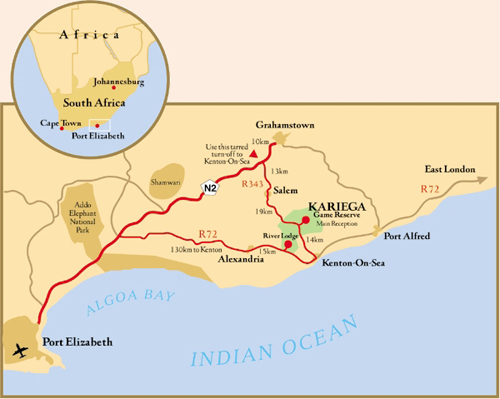 Travel the N2 from Cape Town along the Garden Route towards Grahamstown, and choose one of two alternative routes:
Route 1: The coastal route on the R72, via Alexandria to Kenton-on-Sea, where you turn inland and proceed 14 km on the R343 to the main entrance to Kariega Private Game Reserve (which will take you to Main Reception).
Route 2: Proceed on the N2 towards Grahamstown for about 110 km and turn right before reaching Grahamstown onto the tarred road (R343) to Kenton-on-Sea for a distance of 32 km to the main entrance to Kariega Private Game Reserve (which will take you to Main Reception).